---
Here are the plays selected for the 2016-2017 season at the April meeting:
Stuart Little - Oct. 21-23, 2016 - sponsored by the Ohio University Credit Union
The Littlest Angel - Dec. 2-4, 2016 - sponsored by Intelliwave High Speed Internet
The Addams Family Musical - Mar. 17-19 & 24-26, 2017- sponsored by the Hocking Valley Bank
The Dixie Swim Club - May 11-14, 2017
The Trip to Bountiful - Jun. 18, 2017
Shows for the 2015-2016 Season: We perform in the historic Stuart's Opera House in Nelsonville, OH. Click here to see all of the shows we have produced since December 1992 (with pictures). Click here to see a scrapbook of stories about us in the press. For TICKETSto our shows, please contact Stuart's Opera House.
Our Next Show:

All The King's Women, the life of Elvis Presley through the eyes of 17 women: some enthralled, some appalled, ALL OBSESSED! Directed by Celeste Parsons. Special guest appearance by Alex "Elvis" Couladis! May 19, 20 & 21 at 7 p.m., matinee May 22 at 2 p.m. Cast list.

Sponsored by

Completed:

Disney's My Son, Pinocchio: Geppetto's Musical Tale, the classic tale of Geppetto's little wooden puppet, given new life. Directed by Matthew Johnson. Oct 15, 16, & 17 at 7 p.m., matinees Oct 17 & 18 at 2 p.m. Cast list.
Sponsored by

Charlotte's Web the Musical, a family show in which Charlotte the spider saves Wilbur the pig. Directed by Jodi MacNeal. Dec 4 & 5 at 7 p.m., matinees Dec 5 & 6 at 2 p.m. Cast list.
Sponsored by

Disney's The Little Mermaid, Ariel, King Triton's youngest daughter, trades her mermaid tail for legs to pursue the human Prince Eric in the world above the sea. Directed by Joe Asente. Mar 11, 12, 18 & 19 at 7 p.m., matinees Mar 13 & 20 at 2 p.m. Cast list.

Sponsored by
---
AUDITIONS: Tips
Note: You don't have to be a member of ABC Players to audition, get a part, and perform in one of our productions. But, if you get a part in a second play, we'd like you to support the organization by becoming a member.
Auditions have ended for the 2015-2016 season, but keep watching for next season's schedule!
---
ABOUT US: History of Athenian Berean Community Players
In the beginning there were the Berean Community Players (BCP), incorporated in 1973. For years, BCP's productions under the direction of Spencer Steenrod and Tony Coleman were the cultural center of gravity in southeast Ohio. Musical directors Katy McCoy and Mary Jane McKinley, were recognized throughout Ohio for the quality of their work.
For several years, Joe Balding and Steve Haskins entertained the idea of forming a community theater group in the Athens area. In the summer of 1992, while working on an Ohio Valley Summer Theatre production of On Golden Pond, Joe outlined his dream to Spence Watson, who was also in the play. Spence and Beth Watson had previously formed an amateur theater company in another community. They shared their experiences at a meeting at the Athens Unitarian Fellowship Hall on August 3, 1992. The groundwork for Athenian Players Theatre (APT) was laid at that meeting.
APT's first production was The Best Christmas Pageant Ever, opening in the Athens Unitarian Fellowship Hall on December 10, 1992. Indeed, for our first five years, APT was a sort of nomad theatre, doing shows at such locations as the Unitarian Fellowship Hall, the Athens Middle School, the Senior Citizens Center, and the Friends' Meeting House in Chauncey. But in March 1997, the historic Stuart's Opera House reopened in Nelsonville. On October 3, 1997, APT presented I'll Be Back Before Midnight in the newly restored Opera House and—except for a few special productions in other locations—APT jointly produced shows with BCP in Stuart's Opera House.
On March 18, 2009, the membership of both organizations voted to merge into a single organization called the Athenian Berean Community Players.
Our normal season is three plays, performed either Thursday through Sunday in a single week or Friday through Sunday of two successive weeks. Sunday performances are matinees; all others are evening shows.
In most seasons, one of the three productions is a musical. These have included The Sound of Music (Richard Rogers and Oscar Hammerstein II), Into The Woods (Stephen Sondheim), A Funny Thing Happened on the Way to the Forum (Stephen Sondheim), and Funny Girl (Isobel Lennart, Jules Styne, Bob Merrill). Comedy and dramatic offerings have included such plays as Rumors (Neil Simon), Night of January 16th (Ayn Rand), Steel Magnolias (Richard Harling), Present Laughter (Noel Coward), and Flowers for Algernon (David Rogers).
For a complete list of our productions, illustrations of the show posters, and some stage photos, please click here.
We are active in the Ohio Community Theatre Association (OCTA). Our members have served in various leadership roles in OCTA. When we have presented excerpts of our plays at OCTA regional and state-wide festivals, we have earned formal recognition of the excellence of our productions. We have earned awards for acting, direction, sets, costumes, and for our newsletter: The Minotaur.
So, we have a core of talented, experienced members with demonstrated commitment and exceptional abilities. But all of us face competition for our time, and—as with all volunteer organizations—maintaining a strong, exciting program over the years is a challenge. We are taking steps to attract and empower new members, and we are particularly seeking young people who are interested in live theatre. Although we currently have more than 30 paid members, not all are able to be actively involved in productions. Also, since "time keeps on going into the future," we need to continue to attract new members to keep the organization fresh and flourishing. Becoming a member is easy.
We owe our continuing success to numerous supporters. A few have helped us over and over, and they are mentioned here:
Click here for our bylaws and production policy. Our filings with the Ohio Secretary of State as a nonprofit corporation are available on-line. We can also be found on the Ohio Attorney General's database of charitable organizations by searching for "Athenian Berean Community Players". The IRS's Exempt Organizations Selection Checklist can also be used to verify our eligibility to receive tax-deductible contributions.
---
Our meetings are open to all; everyone welcome. No obligation. Come and learn about your community theater.
The May meeting will be held Tuesday, May 24th at 6:00 p.m. in The Plains Library meeting room. The meeting agenda will include election of officers for 2016-2017.
---
MEMBERSHIP: To become a member of ABC Players, all you have to do is express an interest, be at least 14 years old, and pay $10 a year. Families may join for $20. The membership year runs from September 1 to August 31. Dues are not prorated. To ensure your membership is correctly recorded, please fill out a Membership Enrollment Form and submit it with your dues.
There are two categories of membership. If you aren't able to participate actively in play production, but you still want to support community theatre, you can join as a Supporting Member. Supporting Members receive all mailings regarding auditions, meetings, and upcoming shows. Members who participate actively (as actors, musicians, ushers, directors, designers, etc.) are known as Guild Members and have the additional privileges of voting on elections of board members and helping to choose the plays that we will produce.
---
OFFICERS:The 2015-2016 officers are
President: Jodi MacNeal

Vice President: Jenn Fritchley

Secretary: Rita Preston
Treasurer: Jim Parsons
Officers are elected annually and serve from September 1st through August 31st.
---
FUTURE PRODUCTIONS: Do you have a good play that you would like to see Athenian Berean Community Players produce? Are you just waiting to return to the stage after your experiences in high school but you have put it off for 20 years? Would you like to direct or just smell the grease paint? Write and let us know!!!
---
OCTA: We have been active members of the Ohio Community Theatre Association (OCTA) since 1999. Our members have served on OCTA boards and committees, and we have received OCTA awards for excellence in acting, directing, costume and set design, and newsletter.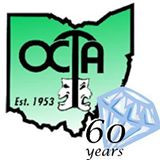 We are also currently members of the American Association of Community Theatres.

---
Athenian Berean Community Players
P.O. Box 283
Athens, Ohio 45701
Join our mailing list of people interested in community theater in southeast Ohio.
---
Added sponsor for The Littlest Angel. (5 May 2016)